"Absolutely amazing experience. Last trip with my brother for our cousins wedding.
Truly magical place." – Allan and Jane, Google
Located at the northern edge of the Duke of Devonshire's Bolton Abbey Estate in Upper Wharfedale, the whole site is of a very significant historical interest. The ruin of Barden Tower, a former fortified hunting lodge is a grade-1 listed building and scheduled ancient monument and by virtue of being part of the curtilege, so is the barn.
On the other side of the Tower is The Priests House and the authentically restored Barden Chapel, a fabulous restaurant and function venue, ideal for weddings, medieval nights and other celebrations.
The Tower dates back to the 12th century, meanwhile the work on The Priests House and the Barn began in 1489 once the War of the Roses concluded. On side with the victors, Sir Henry Clifford regained control of the Barden Estate and got to work.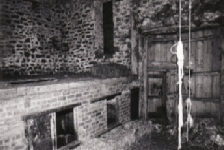 The Barn before restoration.
Skipton Castle – a nearby popular attraction.
The stepping stones, a much-loved feature of Bolton Abbey.
Our Bunk Barn is situated equidistant between Grassington, Skipton and Ilkley. Each town has its own individual atmosphere and are great to wander around. All offer shopping, food and unique attractions.
The nearest place to drink is Appletreewick with two pubs serving meals. They are only two miles away but we wouldn't recommend walking, especially in the dark. Best to drive and get taxi's back.
Recommendations (always ask us for more!):
Walks
It is well worth walking along the river to Bolton Abbey, whose splendour is always magnificent. It is a rather flat walk with quaint charm.
The walk upon Barden Moor begins with only a five-minute walk from the front door of the Barn. This takes you towards two reservoirs and gives you full-witness of the true beauty of The Wharfedale Valley.
Trollers Gill, located nearby, is a stunning gorge walking trail.


Family trips / attractions


Skipton Castle, a short ten minute drive away, is a popular tourist attraction.
Stump Cross Caverns are fantastic for a family day out and also have a café and bistro to enjoy after exploring the caves. 
Another great day out if you have young ones with you would be Hesketh Farm Park, a short drive away. From stroking guineapigs and seeing the rest of the animals up close, the farm offers a brilliant entertainment for children.
The views across Barden Moor.